SUMMARY OF THE STAGES OF A RENOVATION
1. Demolition Works
Any demolition works take place takes precedence. For example, old wallpaper, sanitary elements, tiles, doors with frames as well as electrical installations are dismantled and properly disposed of. In addition, the condition of pipes, walls, wooden beams and beams is reviewed. If mold or other damage is found, it will be eliminated after a qualified inspection.
2. Drywall and Masonry Work
Following are tasks related to drywall, masonry and demolition (according to the project of the structural engineer). In this case, openings are widened and support beams installed. New concrete screed is laid, suspended ceilings are mounted and double-planked stud walls with mineral inner insulation are installed.
3. Electrical Installations
The new electrical installation is installed with new wiring in prepared slots. Also, a new electronic electricity meter with fuse box (according to DIN standard) is mounted.


4. Plumbing
In this step, the new water and sewage pipes are commonly laid under plaster. In addition, connections for sanitary and kitchen appliances are prepared. The wet rooms are sealed with a hydro-insulation layer and joint tapes and the radiators dismantled.
If necessary, the new heating pipes are laid under plaster and new radiators are mounted with thermostatic heads.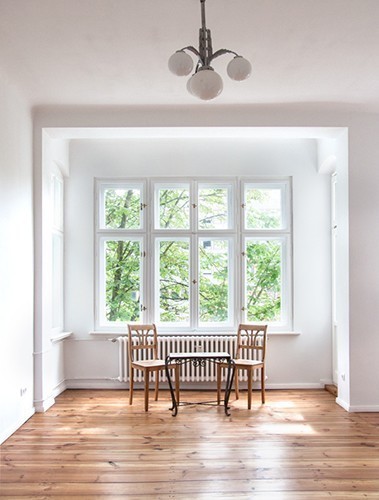 Puttying and painting work
The next stage is the putty and painting work. Ceilings and walls are primed with a suitable primer, then reinforced against tears with fabric, troweled and finely sanded. Finally, walls and ceilings are painted twice. The radiators and heating pipes are sanded and painted, the old windows and interior doors and their frames are sanded, machined and then painted.
Window and Door Works
Then, the new interior doors and their frames and the new windows are installed. If necessary, this also includes the assembly and testing of security locks and shutters.
Floor work: tiles and wooden floors
Next, the new tiles are laid and grouted. In this case, corner joints are sealed well with silicone.
The existing door openings are repaired or closed off with floorboards or parquet. Now the new wooden floors will be laid, sanded off and painted if necessary. Finally the laying of the baseboards follows.
Final steps
Now the final steps in all areas are completed.
Throughout the apartment, new socket and switch inserts and LED lamps in the suspended ceilings are installed. In addition, various flaps, covers, door fittings and the door intercom are mounted. Also, new bathroom equipment will be delivered and installed, with joints sealed with silicone before any cosmetic work is done.
At the end, the property is thoroughly cleaned, to allow it to shine in new splendor.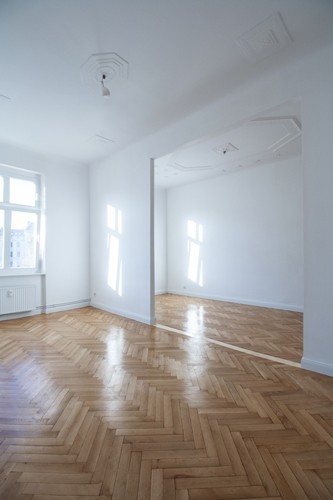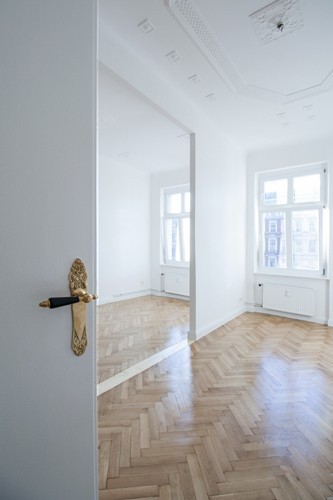 Die Unvorhersehbarkeiten des Renovierungsprozesses: Warum keine endgültigen Kosten im Voraus genannt werden können Die Idee, Ihr Zuhause zu renovieren, kann aufregend sein. Neue Farben, moderne Annehmlichkeiten und die Vorstellung eines frischen,...